Steinhart is a relatively new watch company, started around 2002, all watches are designed by Günter Steinhart himself; all the pieces have swiss movement mostly ETA or Selitta, although they have started producing their own movements recently, the hand-wound 

ST-1

 and the automatic 

ST-5

. 
All watches are assembled in Jura Region of Switzerland.
They have developed a lot of  watches among the years; although they are extremely famous for their diving watches, specially the Ocean One family, which is considered direct homages or pay tributes to some of the legendary watches that were ever produced.
The Ocean One Vintage Military pay tributes to the Military Issue Rolex Submariner reference 5517, this Rolex is an extremely desirable watch among collectors, a good preserved one can easily reach 200K $ nowadays.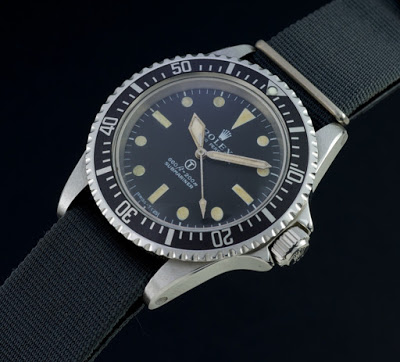 The Steinhart version is bigger in size, the case diameter is 42mm, this fact always kept me away from buying any of the Steinhart watches, until the release of OVM2, the Euro was down against the Dollar, and I was sure it will get Sold out soon, so I ordered one.
The watch arrived to Canada in 9 days exactly.
Upon arrival, I was a bit disappointed, the dial color was too gray for me and the whole watch looked a bit off!
After re-sizing the bracelet and wearing the watch, it started to grow on me slowly, and now after few weeks I absolutely love it.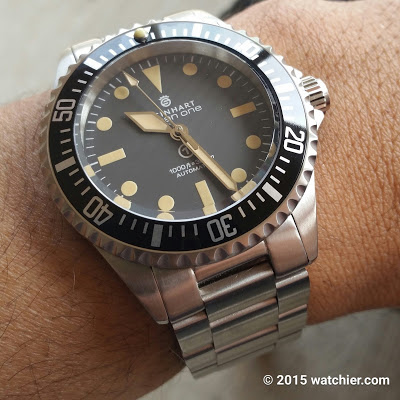 After closer inspection, and spending a lot of time with the watch, I started to admire it, and I can say now I totally understand the enthusiasm about Steinharts among WIS.
The case is very well machined, beautifully brushed with nicely polished sides.
The thin profile gives it a very elegant feel and look.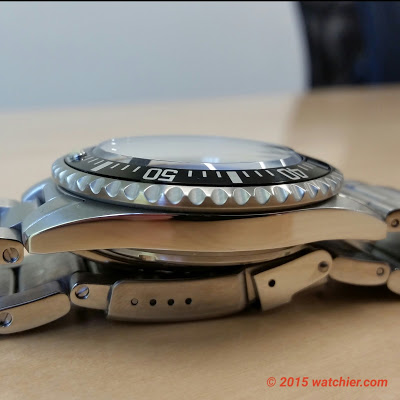 The lugs are flat, so the watch case doesn't really hug the wrist as most of the modern cases these days; I was really concerned that the lugs will be protruding out of my tiny wrist which is 6.7″, but I was pleasantly surprised that it didn't, in fact it sits well on my wrist.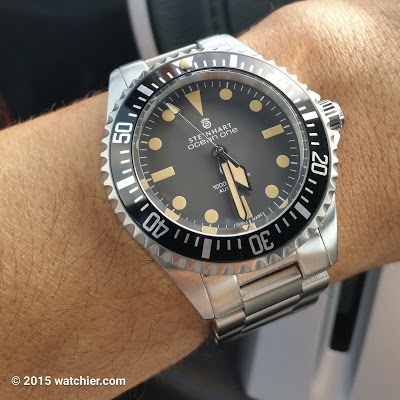 The oyster style bracelet is brilliant, I like it very much; it has solid end links, satin brushed with polished sides, but I don't like the "H" end links, to me they look a bit weird, I would have preferred a regular end link where the central part sticks out a little bit, but this is a visual preference that's all, it might be appealing to others.
My main concern is the clasp, it is very thin, and has one sharp side, it feels cheap in general, which is a pity as the bracelet itself is amazing, but all in all it secures the watch and is comfortable enough to wear it for long time.
There is no diver's extension, which might turns some people off, but personally I don't like diver's extensions [wet suits' extensions] as they tend to dig in my wrist after re-sizing the bracelet to fit my skinny wrist.
The sapphire crystal is nice, very thick and slightly domed; I don't like how it sharply curves to fit the case with an angular cut; but again this is a personal preference.
The crystal makes funny reflection on the dial because of its unique shape!
The Dial is one of my favorite parts of this watch, it is very neat.
It has Super Luminova Vinatge Old Radium, it has orange accent to it with a great vintage feel
But it glows green in the dark, it is not as brilliant as Seiko monsters but I would say it is on par with SX007 ones.
The bezel is very well machined, and it has a great military look and feel to it, it turns a bit easy, which might be a concern for real divers, but for me it snaps well with a nice click.
And it is perfectly aligned!
The Power horse here is an ETA 2824-2 elabore movement, there is nothing more to say here.
It gained 4 mins in the first month, but after settling down, it gains around 30 seconds every 2 weeks.
Pretty impressive accuracy, with around 40 hrs power reserve.
The case back has a nice Trojan worrier engraved.
The crown is well proportioned with Steinhart logo engraved, I find the logo has some sharp edges while feeling it with my finger tip.
Crown guards are triangular like, matching the whole case military design.
Finally, this is a great watch, I find it to wear smaller than regular 42 mm watches, mainly due to the big bezel and the smaller dial opening, for sure it wears smaller than the Obris Morgan Explorer that I have reviewed before.
I highly recommend it; and I might end up getting an O1 Pepsi GMT in the future.
And now some other pics!